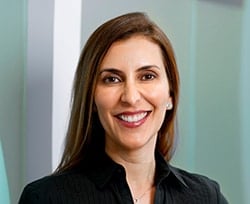 Dr. DiPasquale prides herself on getting to know her patients and by putting them at ease making them feel as comfortable as possible.  We get a lot of feedback about the friendly, fun and gentle manner in which she gets to know everyone while providing the best possible care.
Dr. DiPasquale knows just how to make patients feel relaxed while providing them with top-notch treatment.
With over 10 years of experience in private practice, Dr. DiPasquale is a board certified oral and maxillofacial surgeon with special interest in extraction of wisdom teeth, dental implants, jaw corrective surgery and facial trauma. She provides facial trauma care at seven area hospitals including Swedish Medical Center, Medical Center of Aurora, Sky Ridge Medical Center, North Suburban Medical Center, Rose Medical Center, Presbyterian St. Luke's Medical Center and Highlands Ranch Hospital.  Dr. DiPasquale especially enjoys treating pediatric patients and has participated in medical missions to treat children with congenital facial deformities such as cleft lip and palate. She has traveled to both Vietnam and Philippines to provide surgery to many children in need.
Professional Organizations
Dedicated to the best possible care of her patients, Dr. DiPasquale is certified in Advanced Cardiac Life Support, Pediatric Advanced Life Support and Advanced Trauma Life Support.  She is also a fellow of the American Association of Oral and Maxillofacial Surgeons, Colorado Society of Oral and Maxillofacial Surgeons, American Dental Association, Colorado Dental Association and Metro Denver Dental Society.
Dr. DiPasquale received her undergraduate degree from the College of Charleston in South Carolina and earned her Doctor of Dental Medicine degree from Nova Southeastern University, where she graduated at the top of her class.  She then completed a four-year residency in Oral and Maxillofacial Surgery at the University of Florida Health in Jacksonville.  In fact, Dr. DiPasquale was honored as the very first female Oral and maxillofacial surgeon to complete the program in Jacksonville. After completing her residency training, she was chosen to study as a fellow at the Griffin Center for Cosmetic Surgery in conjunction with Baptist Memorial Hospital – Golden Triangle, where she received advanced training in complex facial cosmetics and reconstructive surgery.
During her free time, she takes full advantage of the Colorado outdoors by running, hiking, skiing and spending time with her husband, two children and friends.